LAunchpad
LAunchpad: The Los Angeles Synagogue Incubator for Youth Philanthropy is an initiative by Honeycomb which will launch high quality Jewish youth philanthropy programs in Los Angeles area synagogues.
This program engages Jewish youth in Los Angeles in life-changing experiences of philanthropy and community connection that shape and strengthen Jewish values and identity, leadership skills and changemaking abilities.
Application is now open!
Scroll down to learn more about the incubator and how to apply to be a part of it.
LAunchpad: The Los Angeles Synagogue Incubator for Youth Philanthropy, an initiative by Honeycomb, is proudly supported by the Ziering Family Foundation.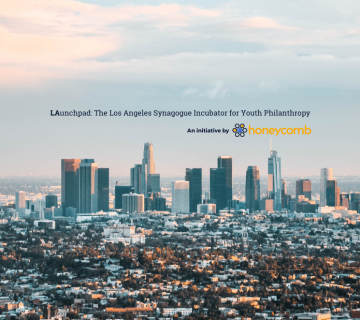 List of synagogues coming soon!
In the pilot year, four synagogues will be chosen to participate in the Incubator. These synagogues will have the opportunity to uniquely focus on Jewish youth philanthropy and benefit from its incredible impact and promise on which it delivers: strengthening young people's connections to Jewish life, identity, community and values while cultivating a lasting desire and skillset to change the world and impact the Los Angeles community.
Honeycomb will work closely with each synagogue providing educational curriculum, resources, funding and training to elevate and develop their philanthropy programming and ensuring strong bonds with the Los Angeles community.
Join Honeycomb for an in-person, informative, fun and interactive session on Jewish youth philanthropy and LAunchpad on May 10th or May 11th. Learn more and signup here. 
If you are a representative from a Los Angeles area synagogue and interested in applying, view the application packet here.
Please feel free to contact Honeycomb's Program Director, Danielle Segal, at  danielle@honeycomb.org with any questions. 
Need help?
For more information, contact Danielle Segal, Program Director.