Foundation Board Incubator
The Foundation Board Incubator brings the success and impact of Jewish youth philanthropy programs across North America into cities around the world. Building upon two decades of experience with programs in the field of Jewish youth philanthropy, Honeycomb works closely with each host institution to develop high investment and high intensity initiatives in communities where there was previously no existing youth philanthropy program.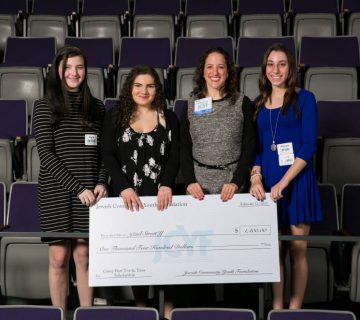 Jewish Teen Foundation

San Diego, California

Jewish Teen Foundation of Greater Boston

Boston, Massachusetts

The Jewish Fund Teen Board

Detroit, Michigan

Teen Empowerment Program

Philadelphia, Pennsylvania

The Giving Initiative

Melbourne, Australia

Jewish Teen Board of Greater Toronto

Toronto, Canada

Magshimim

Israel

Giving Initiative for Teens

Seattle, Washington

YoPhI

Indianapolis, Indiana

Houston Teen Philanthropy Initiative

Houston, Texas
The purpose of the Foundation Board Incubator
The Foundation Board Incubator focuses on launching teen foundations housed in community organizations (such as federations and community foundations) which allow for building pluralistic and diverse teen boards. Communities participating in the Incubator benefit from partnership in development and implementation of their program in addition to coaching on opportunities for scaling and growth.
Need help?
For more information, contact Danielle Segal, Senior Program Manager.