JTFN's new Impact Report Give and Grow: Jewish Teen Philanthropy's Unique, Powerful and Lasting Impact includes findings from long-term and short-term surveys and interviews from communities that were part of the Foundation Board Incubator. This impact report provides evidence of the lasting positive outcomes of being a participant in a high-quality Jewish teen philanthropy program.
The study is supported by the Laura & Gary Lauder Family Venture Philanthropy Fund and Maimonides Fund.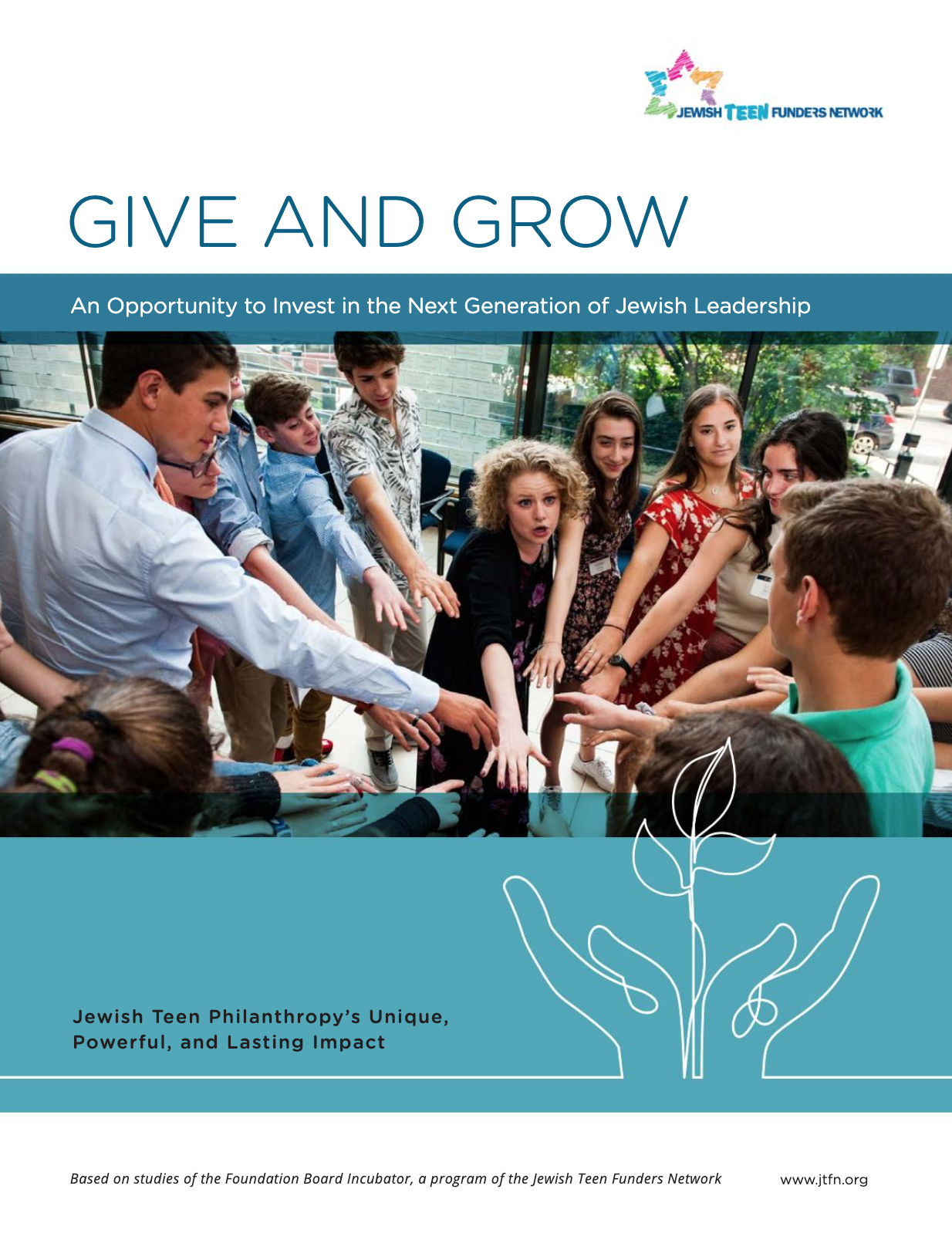 Give And Grow Webinar
This is the Recording from our webinar that explored our key findings from our newly released impact report Give and Grow: Jewish Teen Philanthropy's Unique, Powerful and Lasting Impact and delves into the world of data!
Presented by special guest Jennifer Beyers, PhD (Senior Research Consultant, ORS Impact), Ricky Shechtel (Co-Founder, JTFN), and the JTFN team, we focused on the important findings from the report, discussed how data collection can enhance your programs, and shared tools and strategies for sharing the report's findings with stakeholders, funders and members of your community.


JTFN Long Term Outcome Report 2019
The Jewish Teen Funders Network (JTFN) launched the Foundation Board Incubator in 2014 to seed and support the sustainable growth of community-based teen foundations globally. This report demonstrates key findings from an End-of-Program Survey and a Long-Term Follow-Up Survey completed by Foundation Board Incubator communities during the 2015–2016 and 2016–2017 program years and Long-Term Follow-Up Interviews with 21 of those teens. Long-term follow-up surveys and interviews occurred 1.5 to 2.5 years after teens' initial board experience, depending on which program year in which they participated.
The Foundation Board Incubator is a project of the Jewish Teen Funders Network, generously funded by Laura Lauder and the Maimonides Fund.