Opening the Dor
Launched in 2020, the Opening the Dor initiative from Honeycomb is an intergenerational giving experience that connects teens and seniors through philanthropy, identity, storytelling and heritage.
Selected organizations receive training, resources and funding from Honeycomb to launch this exciting program.
This program was made possible with the generous support of The Sephardic Foundation On Aging.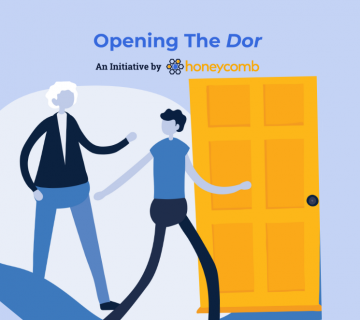 About
Opening the Dor provides grandparents/seniors with the opportunity to be active participants and contributors to Jewish legacy building and tradition within their community through collaboration with their grandchildren/teens. The program culminates in a teen-facilitated giving circle experience for grandparents/seniors in their community.
Honeycomb works closely with each participating Opening the Dor organization providing educational curriculum, resources, funding and training to elevate and develop their philanthropy programming.
Check out our free Opening the Dor: Intergenerational Giving Guide. This guide helps grandparents explore Jewish identity, family traditions, values and charitable giving by allowing them to pass on their wisdom as grandparents, L'dor Vador, from generation to generation.
Need Help?
For more information, contact Danielle Segal, Senior Program Manager.