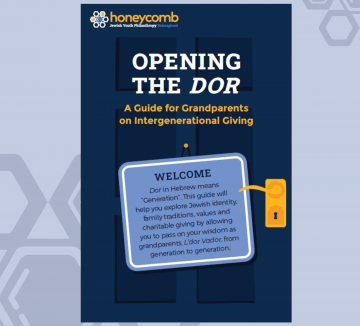 Opening The Dor: A Guide For Grandparents on Intergenerational Giving
This guide will help grandparents explore Jewish identity, family traditions, values and charitable giving by allowing them to pass on their wisdom as grandparents, L'dor Vador, from generation to generation. This guide was made possible by the generous support from The Sephardic Foundation On Aging.
This guide can be used as a standalone resource, or as part of the wider Opening The Dor pilot project, which launched in September 2020. This free downloadable PDF is a perfect resource for grandparents as they explore the subject of giving with their family.
The guide includes:
Activities for grandparents and grandchildren to help explore Jewish identity, giving, philanthropy and heritage.
Creative ways to encourage intergenerational giving.
Discussion questions.
Jewish text sources.
Clear, easy-to-read instructions.