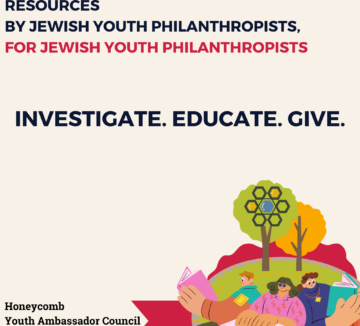 2021 – 2022 Honeycomb YAC Cohort Projects
Honeycomb is delighted to share the final projects of the 2021-2022 cohort of our Youth Ambassador Council. These three resources were created by this inspiring group of youth philanthropists to be used by Jewish youth changemakers globally.

Figure out which value can best guide your giving, deepen your understanding of your ability to eradicate antisemitism in your community and read a guide for giving that can be used for philanthropic journeys! 
The Honeycomb Youth Ambassador Council is a group of youth philanthropists from across North America. Launched in 2016, the Youth Ambassador Council was created in order to amplify the voices of Jewish youth philanthropists.
This resource includes:
Quiz: 'Which Jewish value guides your giving?' - Based on Honeycomb's 7 core values of philanthropy, each section of this quiz is designed to help you figure out which value can best guide your giving.
Article: 'Am I Responsible Within My Own Community?' - Deepen your understanding of your ability and inherent responsibility to make changes within your community to eradicate antisemitism.
Guide: 'A Teen's Guide To Giving' - Check out these steps that can be used as a guide for philanthropic journeys!