Join millions of young people in a global movement for good during a time when our world needs it most.
On November 30, 2021, young people all over the world will lead volunteer projects, acts of kindness, and epic givebacks – spreading the culture of generosity through their communities.
Led by young changemakers, #GivingTuesdaySpark is all about encouraging young people to take action around the causes they care about most.
Honeycomb is teaming up with #GivingTuesdaySpark to get Jewish youth philanthropy programs worldwide involved in this empowering day of action. Swipe through to learn how your program can participate.
Step 1 – Identify a project or good deed that addresses an issue that's close to your heart.
We encourage activities of all sizes, from acts of kindness to large-scale community service projects. Need help identifying the issues that you want to focus on with your youth philanthropy program? Use Honeycomb's '22 Justice Issues' Resource + Honeycomb's 'Building Consensus' Resource.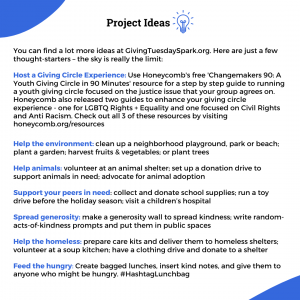 Step 2 – Rally friends, family and your community to participate along with the whole world on GivingTuesday.
Download resources, tools, logos, and more to help you plan your project and spread the word about GivingTuesdaySpark here.
Share your project with your community – local newspapers, radio stations or TV stations. Need help pitching to your local outlets? Email Alisha, Honeycomb's Communication and Engagement Manager, at alisha@honeycomb.org for help!
Step 3 – Wrapping Up Your Project
Recognition – Share how you're planning to give back on Nov 30! .
Invite your participants to make videos to describe what they're doing for GivingTuesday. You can also assign someone to walk around and collect photos of your volunteers in action (with participants' permission). Take and post a group photo with hashtags #GivingTuesdaySpark + #GivingTuesday + tag @Honeycomb_org on all social media platforms. Please note that sharing on social media is optional, we respect participants' privacy. Doing the project and learning how amazing it feels to give is the more important part!
Reflection A powerful community building tool involves taking a moment to reflect on the day's events. This can take many forms: a group discussion among volunteers, writing about your experiences, and creating a photo journal or video about the project are just some ideas.
Submit the results of your project to the GivingTuesdaySpark team!
Visit GivingTuesdaySpark.org and share how you participated. Include your photos, videos, and how many people participated in your event. We want to record your impact as part of the biggest social good movement of all time!
Any questions? Visit givingtuesdayspark.org/ or email us at info@honeycomb.org