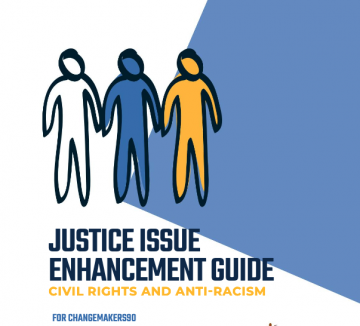 Honeycomb ChangeMakers90 – Enhancement Guide – Civil Rights and Antiracism
These Justice Issue Enhancement Guides are designed to accompany the Changemakers90: A Youth Giving Circle in 90 Minutes. This guide will help you explore Civil Rights and Anti-Racism and how philanthropy is a powerful tool to address changes in society. Explore Jewish values that connect to this justice issue and how you can make a change.
Honeycomb ChangeMakers90 - Enhancement Guides
As part of this educational model, Honeycomb has identified 22 Justice Issues that reflect the needs and challenges of the world we live in. While we recognize there are more than 22 issues that need to be addressed in the world today, by providing this standard, we can introduce new opportunities for participants to engage with and understand the power of philanthropy through a specific issue area.
These Enhancement Guides include:
Full instructions
Aditional activities that can be added to - or replace activities from - the full Changemakers90 program.
Tips for facilitators
Ready made online tools
Templates
Slide deck (separate powerpoint)
Look out for more Enhancement Guides as they are released!