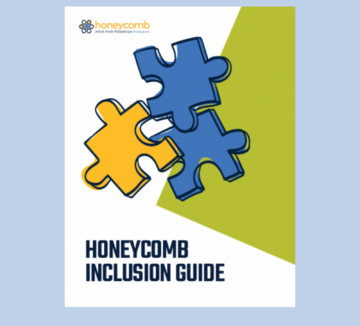 Honeycomb Inclusion Guide
Jewish youth philanthropy offers the unique opportunity to engage in Jewish identity formation, teamwork, Jewish values exploration, civil discourse, grantmaking, and leadership skills.

These wonderful benefits can —and should— be open to all types of learners in our communities. Honeycomb is delighted to present this Inclusion Guide that offers advice, concrete examples and best practices in creating an inclusive environment for different types of learners in your Jewish youth philanthropy program.

Many thanks to our partners,Gateways: Access to Jewish Education and The Jewish Teen Foundation of Greater Boston, for the staff support to develop this guide.

This guide was generously funded by Laura Lauder and, the Maimonides Fund through Honeycomb's Foundation Board Incubator initiative.
Honeycomb Inclusion Guide
We have engaged with experts in the field and have included tried and tested methodologies, as well as resources and recommendations that can be implemented to make programs more accessible to a diverse population.
The guide includes:
Full activity instructions
Tips for facilitators
Fully developed handouts and templates
Templates