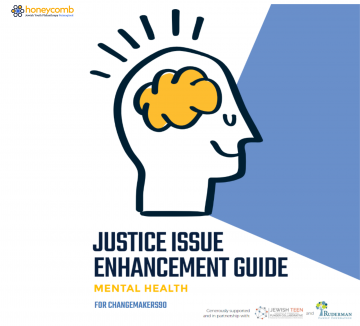 Honeycomb ChangeMakers90 – Enhancement Guide – Mental Health
Honeycomb's Mental Health Enhancement Guide is designed to accompany Changemakers90: A Youth Giving Circle in 90 Minutes.In order to help create a deeply meaningful and focused experience for youth to understand mental health issues facing their communities today, this guide will provide additional framework to enhance the session.

These mental wellbeing, resilience and identity strengthening activities, will enable young people to leave the session with a greater understanding of mental health issues facing their community. They will be empowered, and prepared, to care for themselves and their community by making giving decisions through a lens focusing on Judaism and mental health.


This resource was created with generous support and in partnership with the Jewish Teen Funder Collaborative and the Ruderman Family Foundation.
Honeycomb ChangeMakers90 - Enhancement Guides
As part of our Changemakers curriculum, Honeycomb has identified 22 Justice Issues that reflect the needs and challenges of the world we live in. While we recognize there are more than 22 issues that need to be addressed in the world today, by providing this standard, we can introduce new opportunities for participants to engage with and understand the power of philanthropy through a specific issue area. This Mental Health Enhancement Guide was developed by Honeycomb in partnership with Betsy S. Stone, P.H.D
This guide includes:
Supplementary activities focusing on mental health that can be added to -or replace- activities from Changemakers90: A Youth Giving Circle in 90 Minutes.
Fully developed, ready to use online tools, templates and slide decks.
Optional extension activity on character building and identity that can be offered as an introduction to this giving experience.
Tips for facilitators.